Welcome
The Lord said unto my Lord, Sit thou at my right hand, until I make thine enemies thy footstool. (Psalms 110:1)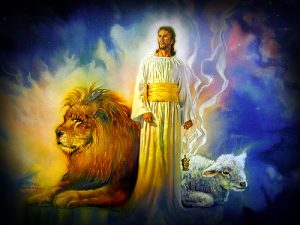 Welcome to The Lion and The Lamb website. Do you know how Jesus came the first time? As a sacrificial LAMB:
8 …the Lamb slain from the foundation of the world.
(Revelation 13:8)
Do you know how He will come the second time? As a LION:
5 And one of the elders said to me, "Stop weeping; behold, the Lion that is from the tribe of Judah, the Root of David, has overcome so as to open the book and its seven seals." (Revelation 5:5 NASB)
Jesus is not the only lion mentioned in scripture, and He will not come alone when He returns. His Believers on earth will be His earthly army, and it is prophesied that they too will roar like lions:
8 And the remnant of Jacob shall be among the Gentiles in the midst of many people as a lion among the beasts of the forest, as a young lion among the flocks of sheep: who, if he go through, both treadeth down, and teareth in pieces, and none can deliver.
9 Thine hand shall be lifted up upon thine adversaries, and all thine enemies shall be cut off. (Micah 5:8–9)
This ministry shines the light on both of Jesus' ministries to help prepare His Believers to fulfill their role as the prophesied Army of the Lord in preparation for the second coming of Jesus and His millennial reign.