New Book Title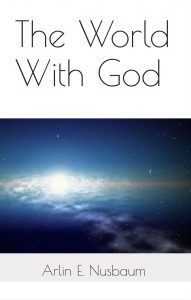 A new book just released—The World With God
! It is a wonderful title that endeavors to show the lesser known side of the Godhead—God the Father. It points out that God the Father will remain "a mystery" until a designated time after the seventh angel sounds.
In it are the compiled accounts of people who have been honored with the opportunity to go before the throne of God the Father so readers can learn about the nature of The Father. A central theme in the book is the fact that God the Father is more of a spiritual energy force than anything else. Jesus was born on earth and has both a human-side and a God-side, being fully human and at the same time fully God.
God the Father is not like that. Though He can and has presented Himself to certain individuals in a human form, He can do that because He is spirit and spirit can mold itself any way it wants. Something unique to God the Father, however, is His spiritual power we call "glory."
The title suggests that this glory is called and considered an energy force so to better grasp the effect it will have when it covers the earth. There are many prophecies that speak of the coming "glory," but the author has learned that there won't be just one coming of glory but two—neither of which will be just more of The Holy Ghost.
The title also points out that God the Father has had little direct involvement with this earth and points out that the God of the Old Testament is Jesus Christ and it is Him that most of creation (or it says "all" but He did not create Himself of course) and human interaction is to be credited.
God the Father will, however, for the first time, get directly involved in the affairs of humankind by releasing His energy force that we call glory onto the earth and it will cover the earth like "honey over an apple." His glory will prepare the world and its inhabitants for the Second Coming of Jesus when His glory will also be revealed—for He will be coming in His glory this time.
The book details what effect this will have on the world and populace and what changes we can expect. We are living in soon-to-be glorious times and the better a person is prepared to be saturated by the energy force we call God, the better the experience and new world will be for them.